Slate and Starlight Retreats: Your Ideal PA Grand Canyon Cabins Getaway
Nestled in the beautiful Pine Creek Gorge, Pennsylvania lies Slate and Starlight Retreats, offering an unforgettable experience for visitors looking to explore the natural beauty of the region. Pine Creek Gorge (also known as The Grand Canyon of PA) is the state's most beautiful natural wonders. These cabins are situated near the charming village of Slate Run, PA, which is located just a stone's throw away from the magnificent PA Grand Canyon.
The PA Grand Canyon is an outdoor enthusiast's paradise, with miles of trails for hiking, biking, and horseback riding. Visitors can also go fishing, kayaking, or canoeing along the crystal-clear waters of Pine Creek, which runs through the valley. The stunning vistas, scenic overlooks, and breathtaking waterfalls make the PA Grand Canyon an unparalleled destination for nature lovers and photographers alike.
Slate and Starlight Retreats offer the perfect base from which to explore the region's natural wonders. These well-situated cabins provide a comfortable and cozy retreat after a long day of outdoor adventure. Each of our Pa Grand Canyon cabins are fully equipped with modern amenities, including a kitchen, private bathroom, and comfortable sleeping arrangements.
The cabins' location is near Slate Run, PA, is a charming village that is home to a handful of shops, restaurants, and pubs. Visitors can stroll through the town and browse the local artisan wares, sample the delicious regional cuisine, or enjoy a cold beer at the local brewery. For more information on area attractions, click here!
What sets Slate and Starlight Retreats apart from other vacation cabins in Pine Creek Valley,PA  is their commitment to sustainability and conservation. The cabins are constructed using locally sourced materials, and the owners have implemented eco-friendly practices to reduce their environmental impact. Visitors can feel good knowing that their stay at Slate and Starlight Retreats is contributing to the preservation of the region's natural beauty.
Cabins Offered: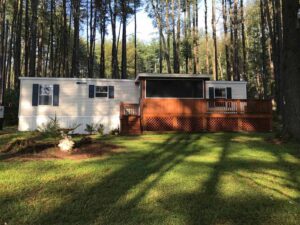 Peaceful Pines
This lovely cabin sleeps up to 7 guest offering  a Master Bedroom with queen size bed, a 2nd bedroom with full size bed and the 3rd with a bunk bed for the kiddos. It also includes 2 full bathrooms and a full kitchen for fun family meals. You can relax in the early mornings or evenings on the screened in front porch.
Touch of Heaven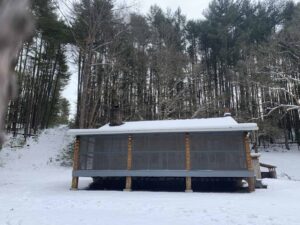 This beautiful cabin sleeps up to 6 guest with it's 2 bedrooms and 2 sofa beds. Also included is 1 full bath and full kitchen that joins a comfy living room equipped with a beautiful rock fireplace to keep warm on cooler nights. You can also enjoy your morning coffee on the screen in front porch listening to the gently flowing stream nearby. In the evening, you can indulge in making smores and telling ghost stories around the campfire pit outside.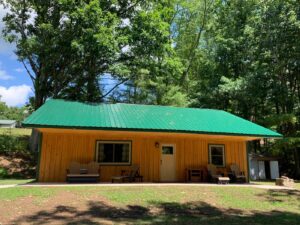 Rustic Bliss
For our guest with special needs, we offer this open concept cabin that is wheelchair accessible. Accommodating up to 4 guest with it's 2 bedrooms (3 bed) and 1 bath, it offers wide pocket doors, wheelchair level kitchen table and walk in shower with seat and extended hose.
Are you ready to book your stay at Slate and Starlight Retreats? Click here to visit our website and learn more.
At Slate and Starlight Retreats, the well-being of our visitors is always our top priority. We'd like to reassure you that we have rigorous hygiene standards and procedures in place to ensure that your stay with us is comfortable and clean. Rugs, bedding, furniture, and other guest contact surfaces (such as doorknobs, light switches, counters, etc.) are all thoroughly disinfected after each guest departs to prevent the spread of COVID-19.
Walk In A Stranger, but Leave As Our Friend! Slate and Starlight Retreat, PA
Visitors to the PA Grand Canyon area will want to choose Slate and Starlight Retreats for their comfortable accommodations, convenient location, and commitment to sustainability. Whether you're an avid outdoor enthusiast or simply looking to escape the hustle and bustle of everyday life, Slate and Starlight Retreats offer an idyllic retreat in the heart of the Pennsylvania wilderness. Where nature meets casual comfort, our goal is to make your experience at Slate and Starlight Retreats a treasured memory for you, your friends and family. Contact us today for more information.